Open-source tools and technologies abound, from Linux to Mozilla Firefox, PHP to WordPress, OpenOffice to Python. And the movement just keeps on growing.
What is open-source software?
Open-source software has been essentially a crowdsourcing movement for software developers since its beginning. The concept is that anybody may contribute to, as well as change and modify, the source code. Proprietary software, on the other hand, can only be altered by the program's owner.
By 2022, the opensource services business is predicted to develop into a 30-billion-dollar industry worldwide.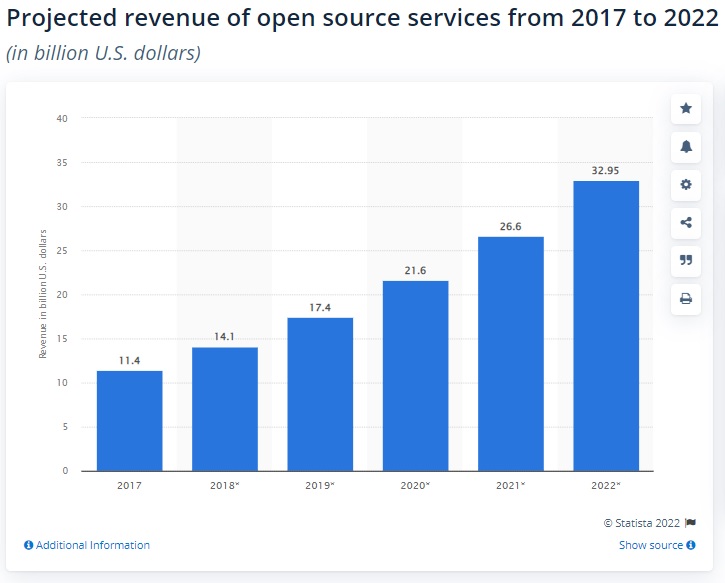 Advantages Open source software
There are various advantages to using open-source software, including:
Affordability
Most of the open-source software is available at no cost. Even if you do have to pay fees, such as for the product you're attempting to produce, the costs will be far cheaper than if you utilise proprietary software.
Community
Open-source software is backed up by a community of other programmers and techies. Professionals may interact with colleagues, ask questions, troubleshoot issues, and solve problems while connecting over common approaches and interests, which helps with programming.
Security
Because anybody may change open-source software, when faults or flaws are discovered in early versions of the product, community members will be fast to respond and fix them, resulting in a more secure and useable release.
Stability
Open-source software is thought to be extremely reliable. This is because a development community is generally working on it, resolving issues, producing updates, and making improvements. This frequently results in extremely stable solutions that may be used at any time.
Flexibility
Engineers benefit from the freedom provided by open-source projects' code, which is virtually crowdsourced. They have complete control over how it is edited and altered, as well as how it is manipulated to match their specific requirements.
Opportunities for Learning
Open-source software gives new developers a chance to put their abilities to the test and attempt something new. It's open to the public, giving them a blank canvas on which to improve their coding skills and ask more experienced coders questions.
Predictions for Open source in 2022
Open-source software has found a home in a range of industries, and it can be found in the stacks of a variety of businesses. What can we expect this year?
1. The Market Will Grow
Open-source software has seen tremendous growth in recent years as the backbone of many businesses' operations, and it's on track to grow even faster in the future. According to MarketsandMarkets, the open-source services market will rise from $21.7 billion in 2021 to $50 billion in 2026, a 130% increase.
Businesses of all kinds will increasingly grow their services and operations, due in part to open-source software.
2. In this area, there will be a high need for skills.
Half of managers want to expand employing open-source professionals, according to The 2021 Open Source Jobs Report: 9th Annual Report on Critical Skills, Hiring Trends, and Education. Managers, on the other hand, may find it challenging to discover individuals with the necessary abilities and competence in the field.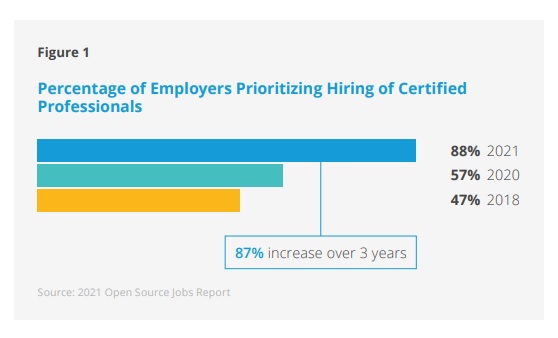 Perhaps this is why employing qualified open-source specialists is a top priority for the great majority. In fact, 88% of those polled said yes, compared to just 57 % in 2020. As a result, fundamental abilities aren't enough; specialisation is required.
3. Open-Source Software Will Be Considered as an Alternative to Proprietary Software by Users
With the popularity of open-source software growing, it's no wonder that more people are looking for alternatives to proprietary software, taking advantage of the often-free tools that provide comparable functionality. for example, consider embracing:
• Audacity over Apple LogicPro
• Gimp over Adobe Photoshop
• Inkscape over Illustrator
• Jami over WhatsApp
• LibreOffice over Microsoft Office
• Nextcloud over Google Drive
• Nixnote over Evernote
• VLC over Windows Media Player
4. The need for security will be emphasized.
One of the reasons why so many businesses use open-source software is security. Developers are increasingly paying more attention to security and tightening security procedures. They'll put greater emphasis on finding errors, use technologies that can detect issues, and stay on top of dangers that might cause havoc with their goods.
Furthermore, the open-source software community will continue to work together to protect against attacks by patching and addressing gaps that may be exploited by hackers.
5. DEI will be considered while developing open-source software.
The Linux Foundation published a fresh study on open-source software diversity, equality, and inclusion (DEI) trends in late 2021. The good news is that 82% of respondents stated open source makes them feel "welcome."
However, addressing equity imbalances still has a long way to go. Persons with disabilities, LGBTQ people, and racial and ethnic minority groups were disproportionately underrepresented in the 18% who indicated they don't feel welcome, according to the research.
Final Thoughts
In many industries, open-source software is widely used, and more businesses are using and producing software than ever before. Every company is now a "software company." As a result of the pandemic, more companies are turning to software to deliver their goods and services via a website or an app. In 2022, open-source software will be employed in all aspects of software development, and this trend will continue.